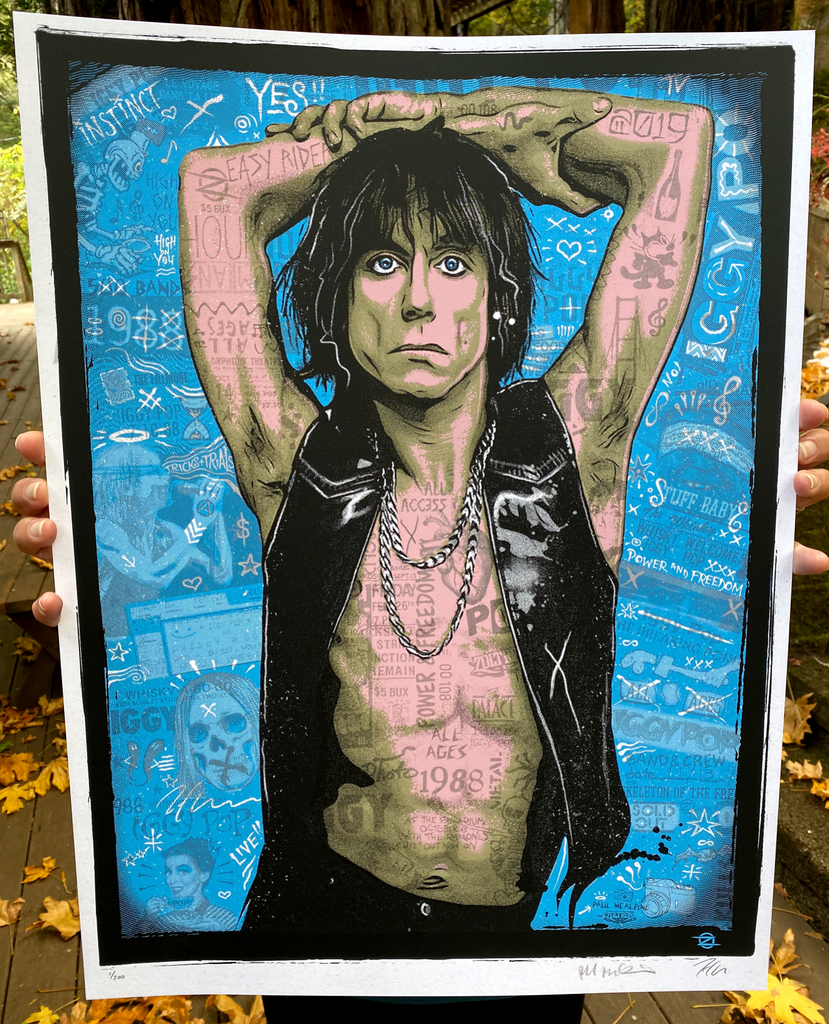 Zoltron and Paul McAlpine
Iggy Pop Serigraph Release
"California '88"
Zoltron & Paul McAlpine
5 Color Serigraph
24" X 18"
Collaboration Signed & Numbered by both artists
Edition of 200
Over the past months, I've been working on a new Iggy Pop print collaboration with legendary photographer Paul McAlpine , who over the past several decades has captured iconic images of so many incredible artists.. Iggy and Bowie, Freddie and Debby, The Stones, Queen, The Cars, Aerosmith, The Runaways.. Damn.... The list goes on and on.
Working with Paul McAlpine has been an incredible experience and this print will be definitely the first of many more to come. 
The background is a collage of distressed punk rock flyer style musings, composed of ephemeral material from the surprise gig at The Whisky, two nights at The Palace, The Fillmore West along with doodles from IGGY, Paul's backstage passes, laminates, ticket stubs, random photos and photo passes, various California references, along with subtle homages to pop poster artist Gary Grimshaw and Iggy's lyrics ands writings and drawings from the era.
----
please note: you can order up to 1 of each version per person/household. duplicate orders or multiple qualities will be refunded. please make sure your shipping address is correct, we can not change shipping address once order is placed.